Filter in Gmail allow you to manage the flow of incoming messages. Using filters, you can automatically label, archive, delete, star, or forward your mail, even keep it out of Spam — all based on a combination of keywords, sender, recipients, and more. Following steps helps you to create a filter in your Gmail account for blocking Buzz messages.
To create a filter:
Go to "Settings" In Gmail page
Click on "Filters "
Click "Create a new filter"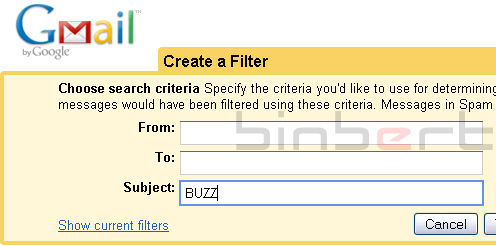 Enter your filter name "BUZZ" in subject box
Press "Next"
Tick "Skip the Inbox (Archive it )"
Click "Create Filter".
By using this steps you can control flow of Buzz messages in your Gmail inbox.