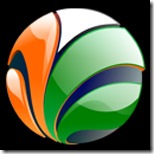 EPIC browser is  Mozilla powered web browser for Indians. The browser support most of the Indian languages, also it decorated with many Indian themes.  The other advantage is EPIC browser have many application integrations like video, facebook, twitter etc … And Epic is the world's only Antivirus browser, you can also see a file browser inside the web browser.  Built in Antivirus Scan downloads automatically. Scan your system manually. Epic Kills any viruses it finds.
Difference from other Browsers
•    The makers claimed that it is the world's only antivirus browser.
•    Browser has an inbuilt addon to detect websites that are dangerous.
•    It is the first ever web browser from India.
•    Anti-phishing protection – a big bold domain name on the address bar.
•    You can type in 12 different Indian languages including Hindi, Gujarati, Marathi, Kannada, Telugu, Bengali, Tamil, Malayalam, Urdu and Punjabi.
•    In the browser's sidebar you can edit text, read news, view videos and pictures.
•    Having faster browsing and faster downloads.