Google Buzz has now been announced! Now a days all are familiar with social networking sites like Facebook and Orkut, And may of you in Twitter also. If you are experienced with this sites, It is easy to understand the Google BUZZ. Here is a how to use Google BUZZ For others who are not active in this social sites.Google integrated this BUZZ with Gmail. So you can easily check the Mail and BUZZ Messages in a single window.
However The Public Timeline of the Google BUZZ will show in your profile Google page See binbert's Profile Page
http://www.google.com/profiles/binbert#buzz
Remember this type services are mainly for Share your Ideas and messages to the Public. We have many option to share with your personal contacts. So Consider it as a Public announcement area. This is something like Broadcasting the messages.
Message
If you Send a message It will reach to all of your followers

Comment
Followers can comment in that message

Here Mutual following is not mandatory like Google Chats. That means You can follow one person who is not following and vice versa. So the followers vs. following ratio will not be 1:1 always
The BUZZ tab in Gmail will show all the messages from the profiles which you are following.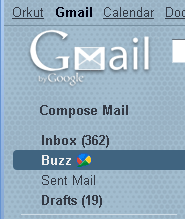 Reply:
You can reply to a person using "@" symbol. Same like twitter
Eg : @[email protected]
It will disply as @binbert and will be linked to the Google profile
Follow
You can follow your friends which is showing in the friends list. or go to any profile page, there you can see a "Follow" Button in the right hand side. there is one more option to search for peoples in your BUZZ Window "Find People"

Connect to sites
You can Connect with your other accounts like twitter, flickr, YouTube etc. Also your site feeds. It will Update the messages from that accounts.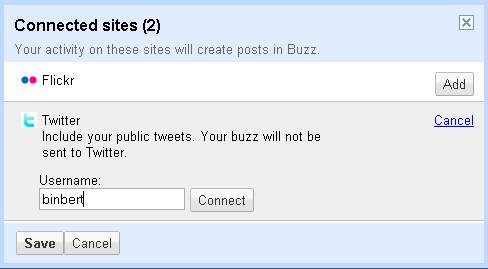 |
Click here to know How to Disable Google Buzz Messages Showing in Your Inbox
|
Key feature of Google BUZZ
Auto-following
Rich, fast sharing experience
Public and private sharing
Inbox integration
Friends suggests
Reply by chat
Like/unlike