Besides Security, CSS Support and Speed; the reason why Firefox is becoming the favorite browser for Internet Users is the availability of Tons of add-ons.
Internet Explorer 8 came with a Trump called Accelerators. In short, Accelerators are key-board free way of browsing the Internet.
Google Define (with Preview) is one such handy and useful IE8 Accelerator which displays the definition of selected words in your webpage using Google Define Service, without leaving the webpage or opening another Tab. Refer the screenshot below: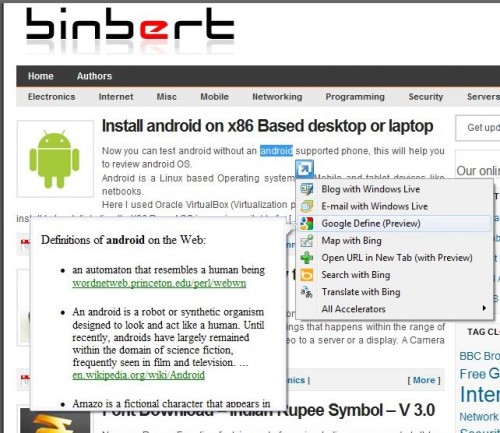 This will be a handy add-on for those who reads a lot of articles online.
Firefox users can also use this handy Accelerator after installing the Firefox plug-in: IE8 Activities (Accelerators) for Firefox.
To install Google Define (with Preview) IE Accelerator,

And yes, it works with IE9 beta too.