With the help of JOIKUSPOT application you can change your mobile in to a internet hotspot . If you have an internet connection via GPRS or 3G you can share the internet connection via wireless network (Wi-Fi). It is very easy to share your internet with multiple people. It will work like a normal HotSpot you can access this from any Wi-Fi enabled devices like Laptop, iPhone, other mobile phones. Using this application you can avoid the complicated setup of PC suite and manual dial up via USB cable or a Bluetooth. This is also a nice idea for 3G Wi-Fi hotspot.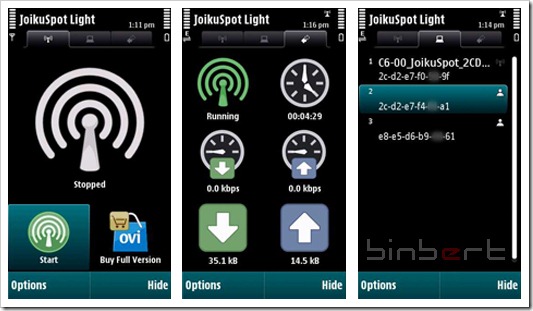 Here I tested with a free version of JOIKUSPOT (Joikuspot light) , Full version support Data encryption, Access point name change, VPN access, Other internet protocols like POP SMTP. Full version can download from the developers website or OVI store
Download JOIKUSPOT Light from OVI store, and open like all other mobile apps. There are no complicated settings. Once you open the application you can see a Start button, the access point will ready when you start it. Application will show the users connected to the hotspot, the data usage, total data usage etc.
Download from OVI : JOIKUSPOT