Without any programming skill you can create a Mobile feed reader application for your blog. It will take just less than 5 minute to create the application. Application will serve the blog feeds along with a thumbnail of the image inside the post. See the Sample screen shots of  Binbert Tech portal Mobile Application. You can integrate up to 4 RSS Feeds in this application. Almost all the Symbian phone models support the application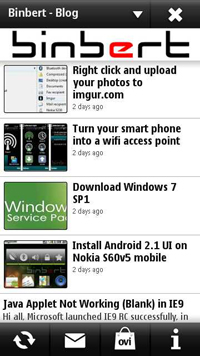 Step by step Procedure to create OVI application
Ovi App Wizard is the platform to build this application
Go to : http://www.ovi.com/appwizard
Give your RSS feed in this text box. And click Preview button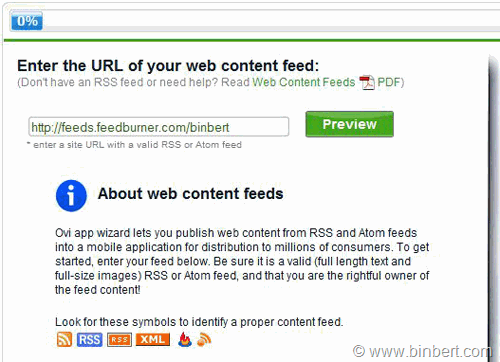 Now you can see the application preview in right hand side (Image not added here)
Once you give the Feed address it will ask for other feed. Give the details If you have more than one feed
Then click "Next Step"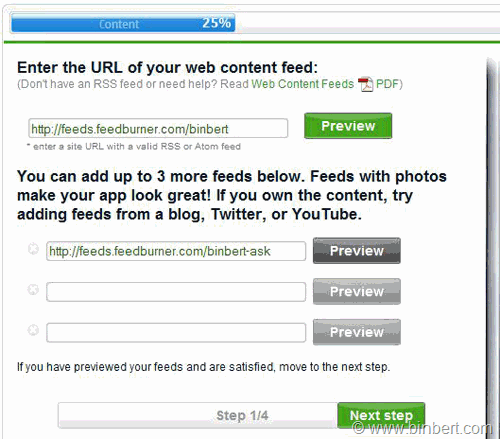 Here you can Customize the appearance of the application.
First Name the application
Create and Upload an original image in PNG, JPG or GIF format for your application icon. It should be at least 80 x 80 pixels.
Give RSS feed titles
Create and  Upload an original image in PNG, JPG or GIF format for your logo. It should be at least 360 x 60 pixels.
Change colours if it is needed.
Select application language and go to next step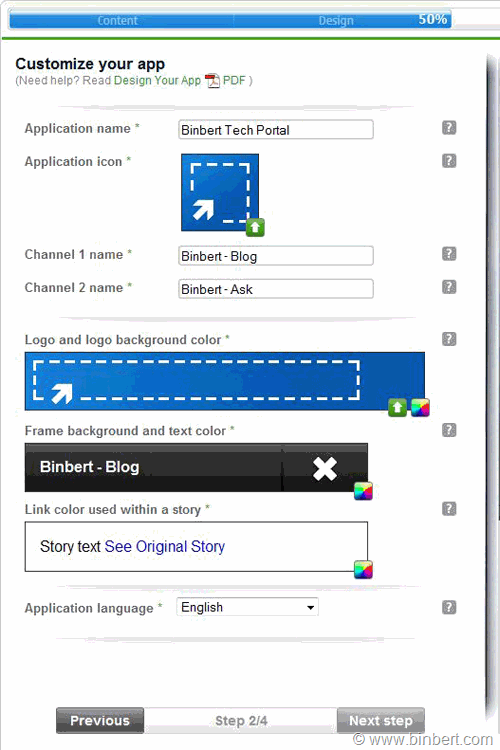 Tick both checkbox and continue

Just Click "Next step" If you are not interested for Advertising
Fill all the details about your application and Press Finish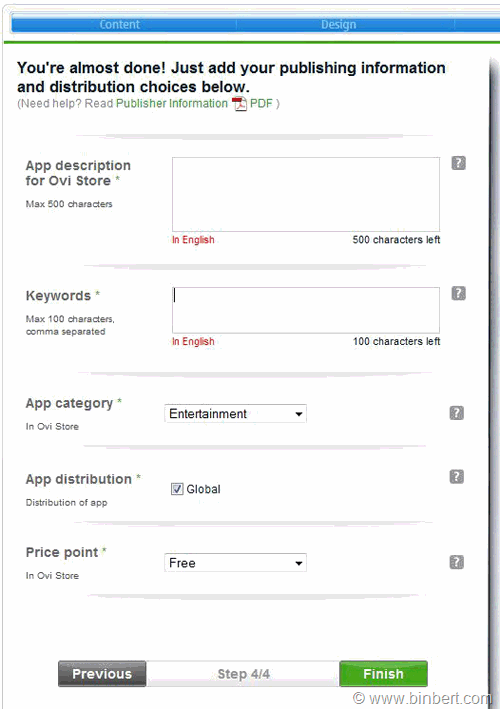 You should have a  NOKIA publisher account . you can create an account in next steps if  you don't have
Once you complete your setup wizard You can see following page
Here you can edit application again or View in emulator. You can also test this application in your mobile before submitting to ovi.
Once you are satisfied with  your application then click "Submit to OVI Store"
verification process will take 1-2 days.

Once the application is reviewed by Nokia. it will be available on OVI Store
See My application link : http://store.ovi.com/content/106408
It can be searched and downloaded through OVI Store application.
If you have any doubt feel free to Ask