nMozhi – a GTalk chat client that allows you to chat in Indian regional language. Ever thought about chatting in regional languages. Then nMozhi is for you. Yes! It's time to stop those manglish (Malayalam + English), hinglish (Hindi + English) way of chatting. And start chatting in your regional languages.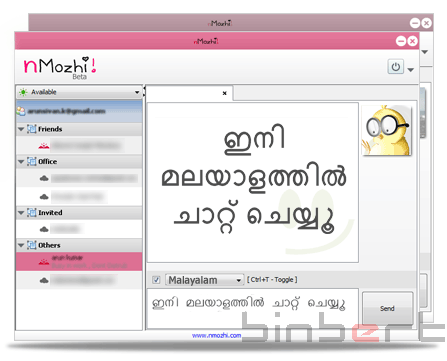 Regional languages that are supported in the current release are – Malayalam, Telugu, Tamil, Kannada, Hindi, Gujarati, Marathi, Bengali and Punjabi.
The application has a tabbed interface, which brings every chat into a single window frame, instead of popping-out separate window for each chat. Above all, the application is too simple, plain and easy to use.
All you need is a Google (GMail/GTalk) account and start chatting with your GTalk friends in regional languages.
The application is a beta release, and looks cool and promising. It's worth a try.
You can download nMozhi from here.