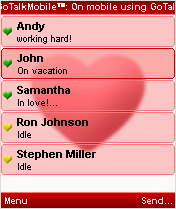 Most of the mobile users like to chat with their friends. But chatting via SMS is little bit expensive and slow.  If you have gprs in your mobile, you can chat with your friends in Gtalk with the help of the application called gotalkmobile . GoTalkMobile is GTalk instant messenger (IM) client for your J2ME-enabled cell phone. It's used for sending and receiving Google Talk and Jabber instant messages just like SMS, via GPRS at no additional cost! It's written in J2ME, and we have MIDP1.0 and MIDP2.0 compatible versions.
By this application you can also send files on your mobile to your friends.
You can download this application by visiting the site http://gotalkmobile.com from your mobile phone.