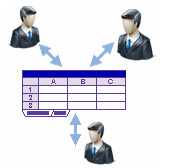 Did you ever faced problem with consolidating excel sheets ? Usually we share large excel files work with colleagues. and consolidate after the their work. Some time we need to share one excel file to others and they want to edit it simultaneously. Most of the users share the file in network (File server / FTP). But if some one open the file, others can just open it as read only.
How can we edit an excel file simultaneously? You have an option to share work book in excel. This is especially useful in a typical office environment where files are shared over a network.  It is known as "Share Workbook" Following are the steps to enable it
1. Go to Tools menu
2. Click Share Workbook
3. Click the Editing tab
4. Select the Allow changes by more than one user at the same time check box,
5. Click OK.
6. Save file to a Network shared location.
Excel 2003

Excel 2007
Before you start sharing your workbook, note that not all features will work in a shared workbook. If you want to add any of the items below you should do so before you start sharing your workbook, and you cannot change these features while the workbook is being shared:
Limitation of sharing workbook
You cannot change following features while the workbook is being share
Charts ,Conditional formats, Data tables, Data validation, Hyperlinks, Macros, Merged cells, Outlines, Pictures, Pivot table reports, Scenarios, Subtotals