I was trying to run a divx video on my Nokia 5800. But default real player doesn't play that video. So I downloaded Divx player from some downloading sites. Buts it wont work and giving error message "Player Expired" "A new version of this player available. Press ok or go to http://mobile.divx.com to get the latest version". So I downloaded the latest divx player "DivXPlayer_S60_3rd.sisx" from http://mobile.divx.com .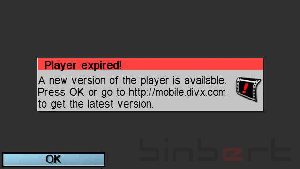 I opened the application and its showing some demos list also. But it is not compactable with touch screen, So I cant click on the menu. I searched a lot to get a solution. Finally I got it, but it is not so simple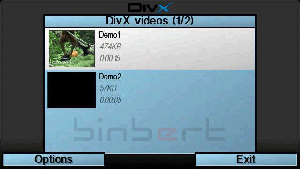 You can map your Menu key and the Camera key for that application with a software called Garmin Virtual key.
You can download the key map from following link
http://www.megaupload.com/?d=J5R51LJZ
It cam be used in Nokia's Other versions like Nokia 5230, 5233
Download Divx Player :  http://labs.divx.com/system/files/private/DivXPlayer_S60_3rd.sisx
Update : DivX mobile Player version 1.0 released . (Touch screen Supported)