IE 9 Quick-Tab Extender
IE9 Beta Quick-Tab Extender is a small utility that allows you to extend the number of Quick-Tab rows to a Maximum of 5 rows. The application is developed by CameTooFar.

Internet Explorer 9 Beta comes with a new feature – Quick Tabs which previews your active website visits. You can browse to a website by simply clicking on one of the website tab. By default, the number of Quick-Tab rows is limited to 2 Rows, with 5 websites (columns) on each Row.
For this, simply download and run the application and specify the required number of Quick-Tab rows. Restart the browser and you are done.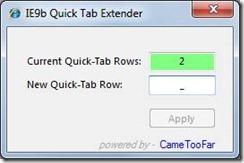 Please note, the Minimum and Default Quick-Tab Row is 2 and the Maximum allowed Quick-Tab row is 5. And, this is by design.
Download IE9 Beta Quick-Tab Extender