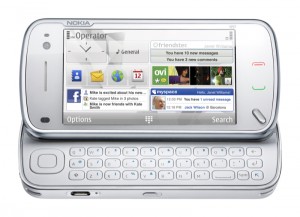 Nokia N97(successor of N96) is a touchscreen "mobile PC" in the N series by Nokia with a fold-out QWERTY keyboard. This phone is Nokia's second touch screen phone(after Nokia 5800) based on the Symbian OS S60 5th edition platform. This phone was released in US on 9th June 2009 & on 26th june 2009, it was released worldwide.  This phone ships with trial versions of Quick office, Aadobe reader, mobile map etc… Nokia released the new firmware with kinetic scrolling for the N97 to address the the major issues present in the firmware the device launched with.
However, the new firmware still causes problems with some functions of the device.The sleek New Nokia N97 integrates the web into life and seamlessly connects to our friends and favourite online services. Choose from thousands of applications, games, themes and more from the Ovi Store. With the optional DVB-H Nokia Mobile TV reciever, SU-33W it is possible to watch television on the phone. This phone comes with a screen of 640*360 pixels (16:9 ratio) 3.5 inches TFT LCD display with upto 16.7 million colours.
This phone offers a camera of  MegaPixel with CarlZeiss Tessar lens.
Its current firmware (RM-507)20.2.019/(RM-505)21.0.045. It has a single CPU of 434mhz ARM11.It has a RAM of 128mb and a storage 32GB on-board(about 29.8GB user available).It has HSDPA(3.5G),HSDPA (3.5G),Quad band GSM / GPRS / EDGE GSM 850, GSM 900, GSM 1800, GSM 1900.
Its connectivities  are WLAN 802.11b/g, USB 2.0, Bluetooth 2.0, TV-out (PAL/NTSC),fm transmitter.
This phone supports     Audio playback: MP3, AAC, eAAC, eAAC+, WMA
Video playback: MPEG-4 SP, RealVideo, Flash Video.