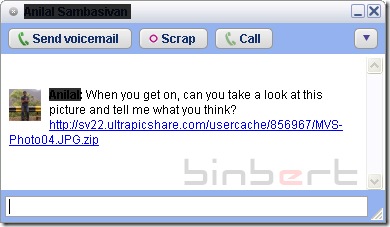 Sometimes back I got a chat message from one of my friend, And the message was like this "When you get on, can you take a look at this picture and tell me what you think? " and there was a link to a file named MVS-Photo04.JPG.zip. It was containing a virus called backdoor.Win32.Agent.riu its also known as Trojan.Delf.PKZ. The message was send without the knowledge of that sender.
You may get this type messages with .exe and .zip extensions, do not click /download the links even if its send by your friends/family. Because it may not be send by them.
Find the description about the worm ( Via FortiGuard Center )
This is a generic detection for a type of trojan injector. This trojan creates a new instance of itself and injects codes into it.
It may have anti-virtual-machine or anti-emulator functionalities.
It may attempt to stop some security-related services, such as the following:
o SharedAccess
o Security Center