Did you ever think that you can remove some unwanted elements from your favorite site?  Yes it is possible using some Firefox add-ons. Some times I have to use low bandwidth connections like GPRS. So  a customized site will load faster in my pc. You can disable ads and others elements from a site which you frequently use. See my examples in following images.
This is possible with the help of Adblock Plus and Element Hiding Helper. Both add-ons are supported on firefox 4. Download and install both Adblock Plus and Element Hiding Helper. After firefox restart adblock plus will ask for subscribing default Adblock database. Subscribe it first. Now open a site which you want to customize.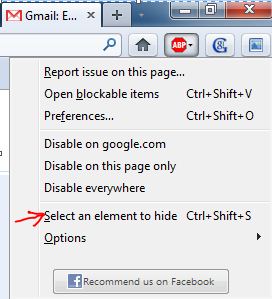 You can see Adblock Plus Icon on the top right hand side. Click on the icon and find "Select an element to hide". You can also use shortcut "Ctrl + Shift + S". Then mouse over through the site and you can see the div tags highlighting. Click on the element you want to hide. Those setting will be saved for that particular domain.